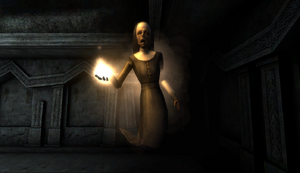 Flying Nun (or Nun Ghost) is female enemy that appears in Orphanage. She also appear in Graveyard.
In Orphanage she is first confronted in the library where she is patrolling whole room - if the player picks up th Shotgun she will disappear. Later she is encountered in the crypt beneath the Orphanage in which she can be killed only by using Flamethrower.
Ad blocker interference detected!
Wikia is a free-to-use site that makes money from advertising. We have a modified experience for viewers using ad blockers

Wikia is not accessible if you've made further modifications. Remove the custom ad blocker rule(s) and the page will load as expected.