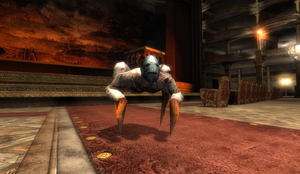 Lokis are twisted spider-like quadripedal creatures, most likely humans, their entire body is covered with bandages, they have masks on their faces and claw-like appendages on their limbs. They first appear in second chapter of Painkiller. They are introduced in Opera House, in main auditorium. Their main attack is jumping on the player and slashing him/her with their clavs. When they are near death, they commit suicide and release two Spiders. Later they appear in Snowy Bridge and have the same attacks as their versions in Opera House which exception that they don't release spiders.
They also appear in Desert in Painkiller: Overdose.
Ad blocker interference detected!
Wikia is a free-to-use site that makes money from advertising. We have a modified experience for viewers using ad blockers

Wikia is not accessible if you've made further modifications. Remove the custom ad blocker rule(s) and the page will load as expected.