Vikings Berserkers are enemies that appear in Ragnarok. There are two variants of them. Both versions will enter into ''berserker rage'' if they are low on health, hitting player harder and being faster in attacking (red glowing ghostly skulls will appear on their faces).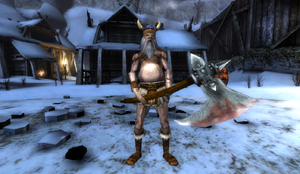 With Bull Head
Edit
Ad blocker interference detected!
Wikia is a free-to-use site that makes money from advertising. We have a modified experience for viewers using ad blockers

Wikia is not accessible if you've made further modifications. Remove the custom ad blocker rule(s) and the page will load as expected.